Knjigo je po predhodnem naročilu možno kupiti tudi v Botaničnem vrtu v Ljubljani.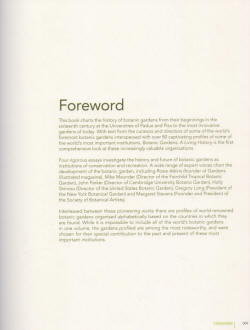 Botanic Gardens: A Living History is an extensive and practical guide to the world's foremost botanic gardens. This visually stunning hardback book unearths the fascinating history of the botanic garden, from the first modern gardens founded in Northern Italy, to the technological achievements of contemporary gardens.
The Orto Botanico di Pisa was established in 1544 as the first university botanical garden in Europe. The garden in Pisa, like all the early botanic gardens in the sixteenth century, strived t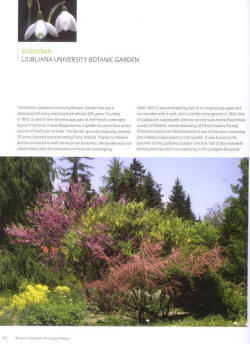 o recreate an Eden that contained a complete collection of all things created by God. From the late eighteenth century onward, European botanical gardens began sending botanists all over the world on plant-collecting expeditions and the story of the gardens became inextricably entwined with colonialism.
For the last 400 years, botanic gardens have played a multitude of roles in society. They function as public plant collections and displays, as centres for learning and scientific research, and increasingly as institutions of environmental conservation. Botanic Gardens: A Living History draws on a range of iconographic and textual treasures including photography, architectural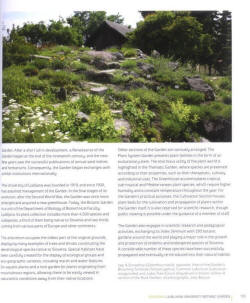 plans, drawings, scientific journals and personal accounts to examine these mesmerising institutions. Global in scope, the book explores gardens including: Bologna, Brussels, Cambridge, Edinburgh, Heidelberg, Kew, Leiden, Leipzig, Melbourne, Montreal, Padua, Santa Barbara, Sydney, Uppsala and Paris.
The key personalities involved in the establishment of the gardens are profiled — an extraordinary catalogue of explorers, scientists, architects, noblemen, botanists, visionaries and dreamers. Th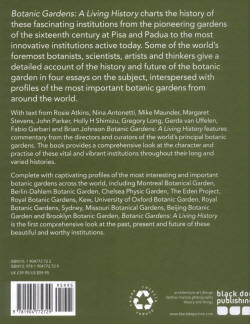 e architecture of the gardens is explored in depth, from the colonial opulence of eighteenth and nineteenth century gardens, to innovative modern developments, including The Eden Project designed by Jonathan Ball and Sir Nicholas Grimshaw.
Four rigorous essays investigate the history and future of botanic gardens as institutions of conservation and recreation. A wide range of expert voices chart the development of the botanic garden, including Rosie Atkins (founder of Gardens Illustrated magazine), Mike Maunder (Director of the Fairchild Tropical Botanic Garden), John Parker (Director of Cambridge University Botanic Garden), Holly Shimizu (Director of the United States Botanic Garden), Gregory Long (President of the New York Botanical Garden) and Margaret Stevens (Founder and President of the Society of Botanical Artists).
The only truly comprehensive and up-to-date survey of these increasingly valuable organisations, Botanic Gardens: A Living History is a vibrant, beautiful book.
http://www.blackdogonline.com/all-books/botanic-gardens.html